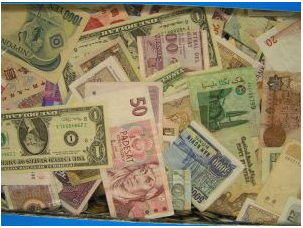 Sometimes it takes a little while to become accustomed to using a different form of currency than what you use at home. Here are some tips that may help with the familiarization of foreign money before you head abroad.
First and foremost, figure out what form of currency your destination country uses. There are over 150 different types of currency used in the world, but the answer should be easily sought out in a basic web search. Here are the top 10 most traded world currencies:

EU – Euro: EUR (€)
U.S. – Dollar: USD ($)
UK – Pound: GBP (£)
Switzerland – Swiss Franc: CHF (CHF)
Japan – Yen: JYP (¥)
Mexico – Peso: MXN ($)
Sweden – Krona: SEK (kr)
India – Rupee: INR (₹)
Russia – Ruble: RUB (руб)
Norway – Krone: NOK (kr)
The next step is the biggest headache of them all – currency conversion and exchange rates. This causes many problems because the rate is constantly changing. The website www.xe.com offers useful information and a universal currency conveter. It is also recommended that you download an app on your smartphone to stay constantly up-to-date on the current exchange rates.
The cost of living
Determine the value of your money to see what you will be able to buy and if you can afford the cost of living. Remember that certain products, such as electronics, may be more expensive in developing countries, whereas food and clothing may be cheaper. Also, prices on items will often vary within the country, depending on population and/or size of the city. Numbeo, www.numbeo.com, is a great website to get broad estimations for common necessities. Here is what Numbeo suggests that a 1.5 liter bottle of water, bought at a supermarket, will cost worldwide, then compared to the American dollar:
In the U.S., the cost is approximately $1.75.
In the UK, the approximate cost is £1, which makes it $1.60, equalling about the same price.
In Mexico, the approximate cost is 12 pesos, which converts to $0.93, less than $1.
In France, the approximate cost is €0.80, which makes it $1.03.
In Japan, the approximate cost is ¥150, which equals $1.91, the most expensive in this comparison.
In India, the approximate cost is ₹20.00, which makes it $0.38 – a big difference from the $1.50 that is paid in the U.S.
Plan a budget!
This is especially important if you will be going to a different country for an extended period of time and will not have an income while there, such as studying or retiring abroad. Research the cost of living and figure out what you will need for your daily living expenses. Remember that you may want to treat yourself to an expensive dinner or a night at the movies every so often.
Also plan out what you can spend on leisurely items, such as artisan jewelry or an original painting by a local artist you see while wandering the streets. No matter how many promises you make to yourself that you will not spend money on unnecessary things, there will always be something unique to your new country that you find that you cannot live without…and you will want to have the funds for it!
Notifications

Facebook Like Box

Categories

Archive

Tags