An overview of the expatriate market
You probably have heard this question before: "What is exactly is your target market"?
Of course, we hear this question a lot as well, and our answer has so far been straightforward: "Anybody living, working or studying abroad". In other words, Just Landed is for expatriates and migrants that choose to live in another country, either for a limited time or for the rest of their life.
The next question is obviously how big this market is. According to UN statistics, 177 million people worldwide lived in a foreign country in 2005, and this number is likely to increase to more than 200 million in 2010. These include expatriates that are sent abroad by their company for a limited time, international students, long-term immigrants and pensioners that choose to move abroad for lifestyle reasons.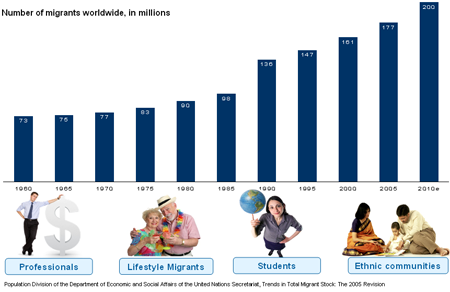 To shed a little more light on our target group, we have created a special expatriates section on our site which gives an overview of the worldwide expatriate market.  Though the reasearch on expatriates is rather limited, our findings give a pretty good picture of the most important characteristics of expatriates, their problems and their needs . It also give an overview of the most popular expatriate destinations and an insight to worldwide expat salaries.
Want to learn more about expatriates, their background and their needs? Check out our new information on expatriates worldwide. And if you want to share your own expat story with us, we're happy to hear from you.
Update: For up to date information on expat campaigns, industry trends and expatriate markets, check our our new industry site for Expat Marketing.