Country of the month: Scotland
I am not typically one to suffer from home-sickness, but I feel that I might just fall victim to the symptoms of nostalgia and melancholy as this month we venture to the UK.
We are taking a jaunt north of the border to my hometown of Edinburgh, where a growing rumble can be heard as hundreds of thousands of visitors from across the world flock to 'Auld Reekie' for the biggest arts festival in the world – the Edinburgh Fringe.
Originally a cheeky gatecrasher at the inaugural Edinburgh International Festival almost 70 years ago, the Fringe has since taken over the party and turned up the stereo. The population of Edinburgh more than doubles for three weeks of comedy, dance, music and more, with revellers coming from every corner of the world. So what makes the Fringe so popular?
The festival with open arms
The beauty of the Fringe, which is reflected in its colourful cast of characters, is that it is 'unjuried'. No selection committee exists to shut out the weirdos, allowing for a vibrant and cultural experience that goes far beyond any other, the result of which is over 3,000 shows from over 50 countries. It is so vast that there are almost 300 venues, which can vary from grand theatre halls to "intimate and unusual" toilet stalls.
If you don't live in Edinburgh, or know anyone at whose place you can crash, there is some bad news. Rent prices always soar during August due to the popularity of the festival, and this year they are expected to reach as high as £190 per night. But don't let that put you off! If you're up for balancing work and play, there is plenty of work available during the Fringe, and even better, there are hundreds of free shows. Admittedly these can be hit-and-miss, but worst comes to worst you can always just finish your beer and heckle the poor guy off stage.
What's on offer
For a full list of what there is to see, touch and smell at the Fringe this year, I leave you in the capable hands of the Edinburgh Fringe programme, but stay with me for some suggestions on what else there is to do during your stay in Edinburgh.
Arthur's Seat
A personal favourite of mine, Arthur's Seat is a dormant volcano situated just south of the Palace of Holyroodhouse, providing a breathtaking view of the capital city. Heading up there for sunrise is a special treat; the morning light basking the Athens of the North briefly in gold. That and the fact that once you're up there the famous Edinburgh wind will whip that festival hangover all the way to John o'Groats for you.
Edinburgh Castle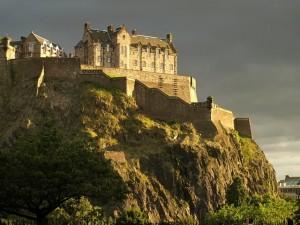 A looming and dominant presence over the city, Edinburgh Castle is the capital's oldest building which today draws over a million visitors a year. With plenty of museums and exhibitions on offer, plus the firing of the one o'clock gun, this really is a must see for any visitor.
The Heart of Midlothian
Finally, if you want to feel like a true Edinburgher take a stroll up the Royal Mile to Parliament House, where you will find the 'Heart of Midlothian'. The heart lies in front of where once stood a prison, and it is said that released prisoners would spit on the marker as a sign of disdain. Today, the people of Edinburgh spit on it in a bid for good luck, so follow in their footsteps and let good fortune guide your Fringe Festival this year!
[Image: Derek Harper]