Country of the month: USA
Today is St Patrick's Day, and this month we focus our attention on the St Paddy's Day party animals – the United States.
St. Patrick wasn't actually Irish. He was born in Britain and according to folklore he was kidnapped by Irish pirates at the age of 16. Even though he was enslaved for six years, he became fascinated with Irish culture and after his escape, he always vowed to return to Ireland.
Pope Celestine I later commissioned Patrick to become an apostle for Ireland. He spread the message of Christianity all over the country. He baptised, confirmed and ordained priests and established schools and monasteries, all in less than 30 years. St Patrick's Day is celebrated all around the world, however, no one does it quite like the USA.
Did you know: St Patrick's Day parades actually began in America, not Ireland! The first parade dates back to 1737 in Boston.
Get your green on!
Why green? In the 17th century, shamrocks and green ribbons were worn to celebrate Ireland's patron saint. St. Patrick also used a green shamrock to help explain the Holy Trinity to the Irish. Some state that St. Patrick's colour was in fact blue, however many suggest that the colour green became widely used due to the beautiful green landscape in Ireland and it was also linked to the Irish independence movement in the late 18th century.
Party in the USA: The Top 4
Food for thought
Did you know: Brewers a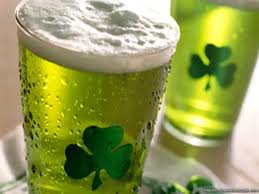 round the globe earn an estimated $245 million during Saint Patrick's Day celebrations? (Not including tips!)
Food and beverage are always a top priority during these types of  festivities – and St Patrick's day is no different! If you want to try something traditional, there are plenty culinary delights to choose from: from corned beef & cabbage, bangers & mash, traditional Cornish pasty and soda bread to the Dublin coddle. Additionally, to get your sugar fix you must try the cream bundt cake and the ultimate apple cake.
As for the drinks, beer-beer-beer! Preferably Irish beer but any kind of beer is acceptable. If you want to really get in the festive spirit – try green beer or mix up a nice green cocktail. You can find some inspiration here.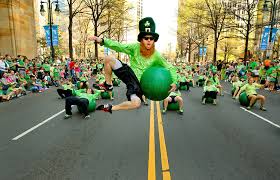 Wherever you might end up, spending St Patrick's day in the USA won't leave you disappointed. Just make sure you stay safe, keep your head on your shoulders, green on your clothes and embrace the fun around you!
Happy St Patrick's Day! Lá fhéile Pádraig sona dhuit!