April expat interview: Embracing Japan!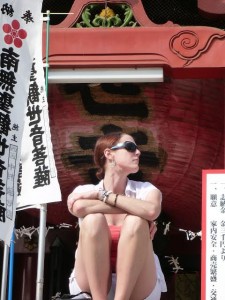 In the April edition of our expat interview series we hear from Christiane Brew, a British expat now living and working in Japan.
Christiane, easy one to start with! Why did you move to Japan?
I moved to Japan initially on a three month contract. I thought that if I didn't like it, then it was only three months! That was four years ago – I kept accepting contract renewals.
What's the best thing about where you live?
I used to live in Nagoya, and the best thing about that was the access to the mountains with a like-minded climbing group. I then moved to Tokyo, where I live now, and the best thing about being here is the various opportunities. I started going to improvisation (improv) workshops 18 months ago to rekindle my thespian nature, and for the past six months I've gradually been performing more and more. I'm also starting to go to auditions and find jobs for narration and voice-over work, and I've already acted in a corporate video. These types of opportunities are more accessible here than in the UK.
The healthcare here is also better than in the UK, and I am reluctant to go home because I need so much of it at the moment! I am part of the health insurance scheme in Japan so I only pay 30% of costs. I get seen by doctors/physiotherapists almost straight away. As I have rheumatoid arthritis and back issues physiotherapy is my main treatment at the moment, and it is exceptional in comparison to the UK. I get an hour of massage treatment/rehabilitation and we discuss exercises. For that I pay between £6 and £11 per session, in comparison to a free service in the UK, but which is 15 minutes of mediocre massage, rushed exercises and not much thought or attention. I don't think it's the NHS's fault, its just the way it is.
What (if anything) do you miss about home?
I miss my nine nieces and nephews. My family are technophobes, utterly useless, so I get to see some of the kids via Skype once every three months. This semester is the first time I haven't gone home for a visit between semesters/contracts, so it'll be a year since I last saw them.
I also miss Jaffa cakes, hugs and chats with friends who know me well, and bombing around Cambridge on my bike in the summer without a care in the world!
If you could change one thing about where you live, what would it be?
I would change, um, nothing. I'm here because of this country. Oh hang on, peoples' inability to stick to road rules when biking on the pavements! I go left as I would in my car, and then the oncoming cyclist goes to their right….Why???  Also, ATM opening times, it's just stupid that the most convenient country in the world remains inconvenient in the ATM department. Oh, and the cost of travelling around Japan being the same price as a flight out, both are expensive. Otherwise, I'm happy to embrace everything that is Japan!
Do you plan on moving again in the future? If so, where and why.
I thought of this just this morning, it just popped into my head….Europe, somewhere like Belgium or Germany. The men are hotter, and there is a higher percentage of males who speak English and are not afraid to do so. They are more confident approaching women, they're taller, and there is also an English improv scene in those places. My ideal would be to live and work in the US, they've got the best improv scene and lots of famous groups, but I'll have to marry to be able to get in on that action! As my health has been so bad, I couldn't consider it before, but maybe in the future.
What was the most difficult aspect of moving abroad?
Most difficult aspect? Packing for four months at a time knowing there were two completely different seasons to pack for and trying to make my luggage as light as possible. I've become desensitised now to saying goodbye to people back home. People have their own lives and it's a fact that we are only part of each others' lives for possibly six weeks of the year. I don't have parents, so it's just my brother and sisters, godmum, and friends back home.
Share your top three tips for people thinking about moving to Japan.
Bring deodorant and toothpaste from your home country.
Check out meetup.com to help get you settled in with activities you enjoy and to meet friends (Tokyo can be the busiest but loneliest place ever).
Plan in advance any travelling you want to do within Japan or Asia because everyone tends to have time off at the same time and so everyone travels at the same time, and things get expensive and booked up early.