Dubai Guide in French / Guide de Dubaï français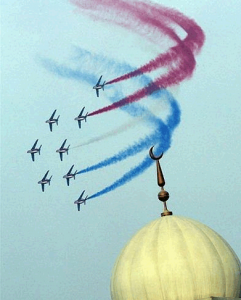 We are pleased to announce the launch of the Dubai expatriate guide in French! Dubai is the most attractive city in the UAE for the French to live and work in as well as visit. The number of French expatriates in Dubai has grown by 5% each year, and in 2010 the resident population was about 10.000. In terms of tourism in Dubai, France is ranked 13th with more than 42,000 tourists every year, with a growing rate of 27%.
Even among all the Arabic and English speakers, the French should feel at home for Dubai's Riviera-like atmosphere and tolerance of Western values. Dubai's lifestyle is really attractive to French expats because living in Dubai is a symbol of luxury – to be sure of this, all you have to do is look at its modern hotels, artificial islands and leisure attractions.
In comparison to France, expatriates can earn higher salaries in Dubai, and the government now allows foreigners to invest in property without a sponsor. Business relationships between France and Dubai are increasing constantly, and there is an influx of job opportunities for French- and English-speakers. France is the UAE's seventh-largest importer, and there are more than 300 French enterprises in the UAE, around half of which are in Dubai.
The overall number of French expatriates in Dubai has lead to the development of institutions such as French international schools and French business associations. Looking at the number of new expats coming each year, you can bet that these new organisations are responding to the needs of the growing French communities in Dubai.
Le Guide de Dubaï est désormais disponible en français!
Nous sommes heureux de vous annoncer le lancement de notre guide de Dubaï pour les expatriés en français! Dubaï est la ville qui attire le plus de français aux Émirats Arabes Unis. Le nombre de français expatriés à Dubaï augmente de 5% chaque année et en 2010, ils étaient déjà près de 10 000. En termes de tourisme à Dubaï, la France est classée 13ème avec plus de 42 000 touristes par an et un taux de croissance de 27%.
Même parmi les anglophones et les arabophones, les français devraient se sentir chez eux dans cette atmosphère très «côte d'azur». Le style de vie de Dubaï est très attractif pour les expatriés français car vivre à Dubaï est synonyme de luxe. Il suffit de voir tous les hôtels modernes, les nouvelles îles artificielles et toutes les activités de détente que l'on peut y trouver.
Comparé à la France, les expatriés peuvent gagner des salaires plus élevés à Dubaï et le gouvernement autorise désormais les étrangers à investir dans une propriété sans sponsor. Les relations commerciales entre la France et les Émirats augmentent sans cesse et il y a de plus en plus d'opportunité d'emploi pour les francophones et les anglophones depuis quelques temps. La France est le 7ème pays en terme d'importations à Dubaï et il y a plus de 300 entreprises françaises aux Émirats Arabes Unis, dont plus de la moitié à Dubaï.
Le nombre croissant d'expatriés français à Dubaï a entrainé le développement d'institutions telles que les écoles internationales françaises et les associations de business françaises. En regardant le nombre de nouveaux expatriés chaque année, vous pouvez pariez que ces nouvelles organisations répondent aux besoin de la communauté française à Dubaï.