Latvian language is now live on Just Landed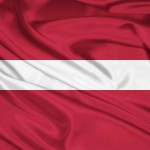 Damas un Kungi (this is Latvian for ladies and gentlemen), we are proud to announce that all the Just Landed applications, including community, jobs, classifieds, housing and directory are now available in Latvian!
Latvia (for those who do not know) is a small country in the Baltic states with a very diverse population and beautiful sceneries. Latvia used to be part of the USSR until 1991, and after getting independence has successfully joined the EU in 2004.
The economic climate of the country remains unstable after a "Credit Crunch" in 2008. For this reason, 30% out of the whole 2.5 million Latvians in the world are now living abroad.
An interesting fact is that despite Latvian being the only official language of the country, the majority of the people living in Latvia are bilingual in Russian and Latvian. English is also a commonly used language which also facilitates the migration of Latvians around the world.
Latvian uses latin alphabet, with some scary adjustments, as "Garumzīmes". In fact, in a closer look you will see that this is nothing but just a sign on top of a letter to get it pronounced longer. Latvian expats often use double or triple letters in their blog posts instead of this sign, so "aaa" actually stands for "ā".
Latvia is also the only country in the world to host an annual Blond Parade (OMG, I´d like to go there).
One of the main Latvian national holidays is the day of Līgo (23.06), when the whole nation eats caraway cheese, consumes enourmous amounts of beer (Latvian national drink) and jumps across the open fire.  Interesting, that some of my Latvian Expat friends got in trouble for ligtning up open fires in the parks of London.
Laipni lūdzam visus Latviešu ekspatriātus peivinoties Just Landed dzimtajā valodā!
UPDATE: we found a humorous beginners guide to Lativa here: