Improved Just Landed Directory
The Just Landed Directory offers listings of addresses and Internet sites useful for your stay abroad, serving as a link between clients and relevant services. It currently receives over 800,000 monthly users looking for companies.
From a user point of view, we have made it easier for you to find the services you are looking for. The Directory is now more accessible and simpler to navigate: found at the top of every page, it is divided into precise categories and allows for extended company descriptions.
As a company, you can now manage your own listings, allowing you to update both your company's description and contact details at will. We also put a lot of effort into improving the listing descriptions: you can now insert images, videos and additional languages. Listings can also be published in multiple locations and categories to maximise outreach.
Premium and Featured listings still benefit from a highlighted placement at the top of the page, but Premium now allows contact details and a link to be shown directly on the listings page.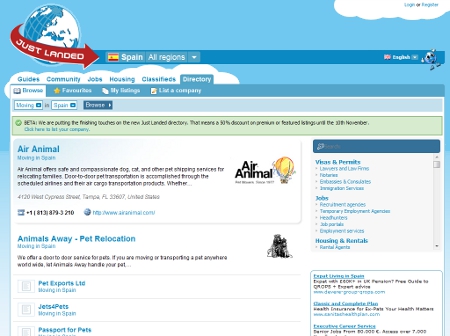 To celebrate the launch, we are offering a 50% discount on all Premium and Featured listings until the 28th Feb – click here to list your company or organisation.
Currently, we are still in beta so if you have any problems or suggestions, please contact us!