Telegraph Weekly – iPad edition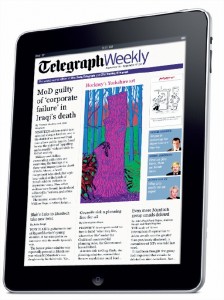 As an expat it's easy to feel out of touch with news from home. We all know how hard it can be to find a copy of your national newspaper, on time and reasonably priced. Well, you no longer have to trek to a newsstand, the Telegraph Weekly World Edition is now available on your iPad for only 80p.
After downloading the app for free, your new edition is delivered to your tablet every Wednesday morning. The iPad optimized format offers picture galleries, videos and graphics as well as all the usual Telegraph content. You can also access the archives containing up to 30 previous editions.
A monthly auto-renewable subscription (5 editions) will cost just £3.99 and individual digital editions can be bought for £1.99. Alternatively, you can still subscribe to 13 weeks of the paper edition for just £10, meaning each issue works out at less than 80p a week.
The Telegraph Weekly World Edition provides in-depth coverage of the news, sports, the arts and politics. Aimed at British and other English speaking expats there is a special section with advice and tips on living abroad. The night mode with screen lighting makes it easy to browse the news any time of day, particularly useful for those times you can't sleep.
For 80p per issue, the iPad version could be an interesting deal for many expats. It's stylish, portable and easily read, perhaps while drinking your coffee in one of Dubai's malls, or commuting to work on Tokyo's metro. To find out more, go to www.telegraph.co.uk/expat/expatsubscriptions/.