Turkey guide in Dutch / Turkije gids in het Nederlands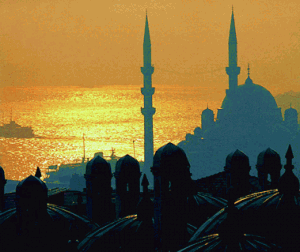 We are pleased to announce the availability of our Turkey guide in Dutch. Are you fond of natural beauties, a good cuisine and the Moslem history? If you are, then Turkey is the right place for you to move to.
Due to the varied landscape investors have a wide choice of areas in which to put their money. The country is known for its beaches, turquoise water and enchanted sunsets. As the summer is so warm and lovely, sun worshippers come from all over the world to its beautiful coastlines. That is the reason why there are so many foreign investors buying property on the Turkish coasts.
The cost of living in Turkey is rather low when compared to other European countries , and property prices are lower than in other popular expat destinations such as Spain. Due to recent changes in Turkish legislation, it has become easier for foreigners to buy property in Turkey. Real estate prices have increased a bit but the standard of construction has also been improved considerably.
Turkey, with its 65 million inhabitants, attracts a lot of tourism from all over the world. More over, the local people are very hospitable and warm towards its visitors. You definitely will not regret your stay!
Turkije gids in het Nederlands
Met grote vreugde kunnen we de lancering aankondigen van de Turkije gids in het Nederlands. Is een mooie natuur, een goede keuken en de Islamitische geschiedenis iets voor jou? Dan is Turkije voor jou een fantatische reisbestemming.
Door het gevarieerde landschap hebben investeerders vele mogelijkheden. Het land is gekend om zijn stranden, turquoise-blauw water en zijn adembenemende zonsondergangen. Zonnekloppers komen vanuit de hele wereld naar de Turkse kusten dankzij de warme zomers. Ook zijn er daarom zoveel buitenlandse investeerders aan de kust.
De leefkost in Turkije is vrij laag in vergelijking met andere Europese landen zoals Spanje, Italië en Frankrijk. Aangezen vastgoedprijzen lager zijn dan in Spanje en je veel waarde voor je geld krijgt  zou het goed zijn om te investeren in vastgoed. Door de recente veranderingen in de wet is het nu ook gemakkelijker voor buitenlanders om eigendom in Turkije te kopen. De vastgoedprijzen zijn wat gestegen maar de bouwstandaard is aanzienlijk verbeterd.
Turkije heeft ongeveer 65 miljoen inwoners en trekt veel toerisme aan van over de hele wereld. Bovendien is de lokale bevolking zeer gastvrij en warm. Je zult zeker en vast geen spijt hebben van je reis!