Skype Freetalk Buddy Cam – not as good as Skype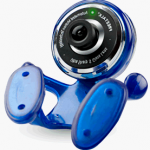 In an international environment like Just Landed, calls abroad are obviously part of the day-to-day business. Besides our standard (expensive but functional) Spanish fixed lines, we are also using VoIP services such as Skype. So we were quite curious when we now got the new Freetalk Buddy Cam from Skype and decided to share our impression of this new product.
Skype's Freetalk Buddy Cam is a camera attached to a bendable plastic body. It's cute, but it is a product which does not belong at Just Landed's office.
The camera is more of a toy than anything else, and a gimmicky one at that. Its body bends and can stand on a desk or cling to a monitor. It features an "Ultra Sharp 5 Glass Lens" (this fancy name should make you think you're buying a high-end product), but it records video no better than any other mediocre-level web camera.
While the Buddy Cam should be relegated to the realms of family calls, Skype nevertheless offers a range of services which do fit Just Landed's needs as a team of international professionals. From calls to text messages and video conferences, Skype almost offers too many services.
Skype calling services
For everyday calling, Skype makes it easy for us to place an international call to a land line or a mobile phone without losing call quality. All we have to do is punch in the country and number of our international partners and we're connected. This cuts out the the hassle of dealing with country codes and calling cards – which are problems land lines and mobiles have yet to deal with cheaply and effectively.
Aside from free internet calls, Skype's low calling rates and packages are impressive. With a Skype plan, we can talk for an hour for €0.89 to a land line – some telephone providers charge this much for a minute. Skype's unlimited calling plan is also impressive because it pays for itself in the first twenty minutes of any call abroad.
Although products like the Buddy Cam leave something to be desired, Skype's services and rates do not. We have made Skype's services part of our routine because of their rates, ease of use, and ability to call a range of communication technologies.