Guida di Dubai in italiano / Dubai Guide in Italian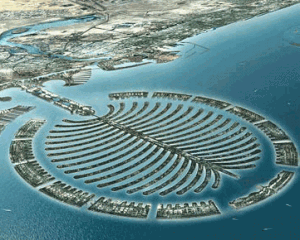 We are pleased to announce that the Dubai Guide is now available in Italian. Also known as "the Middle East Pearl", Dubai, with its 1,370,714 inhabitants, is the second largest emirate of the United Arab Emirates.
The great economic development, together with its hot arid climate, with sunny days expected throughout the year, attracts lots of foreign workers and tourists.
Although Dubai's economy was built on the back of the oil industry, it is important to note that this emirate is not so dependent on hydrocarbons as other states in the Gulf. The key of such a great growth is perhaps the economic diversification policy undertaken by the government. In fact, Dubai opted for promoting tourism, international trade, construction and, lately, has been trying to attract companies from the information and technology industry and from the financial world.
The need of developing trade and tourism at the same time, has led to the construction of unique spectacular luxury buildings and skyscrapers .
Dubai hosts about 23% of the world's building cranes, and constructions sites are spread allover the country. Today, one of the most ambitious architectural projects is The Three Palms, three artificial palm-shaped peninsulas in the Persian Gulf, which is meant to be completed by 2015.
Due to the massive immigration of foreign workforce, locals now only account for 10% o0f the emirate's population.
La Guida di Dubai è ora disponibile anche in italiano!
Siamo lieti di annunciare che la Guida di Dubai è ora disponibile anche in italiano.  Conosciuta anche come "la perla del Medio Oriente", Dubai, con i suoi 1.370.714 abitanti circa, è il secondo dei sette emirati che compongono gli Emirati Arabi Uniti.
L'eccezionale sviluppo economico del paese unito al clima caldo, prevalentemente umido, con forti escursioni termiche fra le ore diurne e quelle notturne, hanno fatto di Dubai una delle mete predilette di molti stranieri che scelgono di trasferirvisi per lunghi periodi o semplicemente di passare le vacanze in questo paradiso dorato.
L'economia del paese dipende, anche se in minor misura rispetto agli emirati vicini, dal settore degli idrocarburi. Da sempre Dubai ha optato per la diversificazione economica, incoraggiando lo sviluppo del turismo, degli scambi commerciali marittimi, del settore immobiliare e, ultimamente, cercando di attirare aziende attive nel settore dell'Information technology e nella finanza.
L'esigenza di sviluppare il commercio, e  in parallelo il turismo, ha portato alla creazione di strutture uniche al mondo, sia per gli aspetti architettonici che per le dimensioni.
A Dubai sono presenti circa il 23% delle gru mondiali e i grattacieli sorgono a decine lungo tutta la città. Entro il 2015 verranno completate le Tre palme, ovvero tre penisole artificiali situate nel Golfo Persico.
Data la grande affluenza di forza lavoro specializzata e non proveniente da paesi stranieri, la popolazione di Dubai è oggi costituita solo per il 10% da autoctoni.