Country of the month: Morocco
With an average temperature of 18 to 21 degrees Celsius, May is a good month to visit the desert, hike the Atlas Mountains, and do some sightseeing in imperial cities. Visit this gateway to Africa before it gets unbearably hot.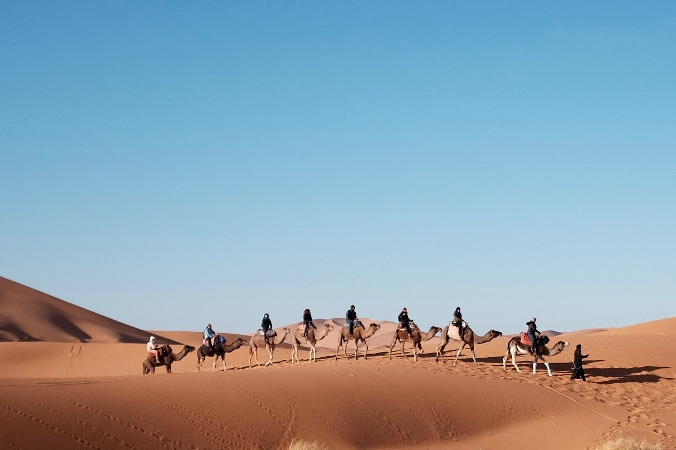 SAHARA DESERT

If you have at least 3 full days, venture into one of the world's largest deserts. Spend the night gazing at the starry sky. Ride a camel, share meals, sing. Get a sense of how tribes have lived for centuries. May's mild weather is great to visit the dunes of Erg Chebbi and Erg Chigaga. Morocco offers all sorts of trips, so make sure you customize your visit to meet your needs and expectations while in the Sahara.
ROSE FESTIVAL- EL KELAA DE MGOUNA

Swords, snake charmers and traditional music take part in this fete of rose harvesting. In Valley Dades or the Valley of Roses, Moroccans grow so many roses that their fragrance fills the nearby town of Kelaa-Mgouna. In the first weeks of May, locals celebrate the harvesting of one of the most appreciated flowers in the country. Get lost in the pink scenery and relax buying some local products or drinking tea and chatting with its friendly inhabitants. Accommodation options are available along the valley road and in Kelaa-Mgouna.
FANTASIA
In Islam, horsemanship has a strong tradition. Inspired in desert knights, Fantasia is an equestrian performance and a celebration of Berber and Moroccan culture. In this spectacle, competing teams represent different villages and wear their own traditional clothes. They race 200 meters to fire their muskets, all at the same time. Such coordination creates a unique, captivating sound. Traditionally, a procession of women from the Zayaan tribe takes part in the show. Fantasia has both a traditional, popular version and some tourist-oriented, easy to find adaptations (some restaurants in Marrakesh display Fantasia shows). The events take place throughout the year, but the blooming spring of Morocco is great for watching open air events. Stare at the Barb horses in their glad rags and enjoy the display of history and folklore.
MEDINAS AND SOUKS
Moroccan cities are best known for their impressive medinas, or old historic quarters. Inside their narrow streets, you will find souks, or markets specializing in different goods. Traditionally acting as commerce centers along important trading routes, these markets now attract millions of tourists every year. The most visited souks are in Marrakech, but cities such as Fez and Meknes also have bustling and authentic markets inside their walls. As soon as you step in, you will feel like you were transported to a land of silks, spices, carpets, and crystals. Make sure to bring a map, as you will likely have a hard time finding your way out. Booking a licensed guide is also a good way to get a look at the history of these markets and to engage with locals. You will feel like a celebrity as you walk down the aisles of vendors offering their goods and demanding your attention, but don't be shy about saying "no". Try to put away your camera and take in the kaleidoscope of colors, the musky smell of tanned leather, and the sounds of metals clacking and people haggling. In May, you will experience all the adrenaline without the sweltering heat and huge tourist crowds of the later summer months. Don't miss out on the chance to wander through one of these mazes, to buy some pottery or jewelry, or even just to people watch.