Americashire: A Field Guide to a Marriage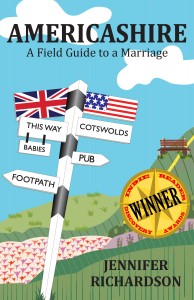 Americashire: A Field Guide to a Marriage is an affectionately written memoir of an American's time spent living in rural England. A self-confessed Anglophile, we asked author Jennifer Richardson to share some of her expat experiences.
Did you find any aspects of British culture difficult to adapt to? Can you give a few examples of the most striking cultural differences between the USA and Britain?
The things I found most difficult to adapt to were practical rather than cultural, like not having a tumble dryer or a built-in closet in our flat. On the other hand, the most striking cultural difference is something that was a lot of fun to adapt to: developing a sense of humor about myself. The Brits are masterful at laughing at themselves, or, to use their parlance, "taking the piss out of themselves." I do sometimes feel that we Americans have a tendency to be a bit life and death about things that don't deserve such reverence.
What were the preconceptions you had of Britain before you moved?
That the weather is terrible—which it is, but that took me about a year to realize. I moved from Los Angeles to London in May 2005 at the start of a wonderfully rare, hot summer. I spent the whole of it commenting on how the temperature was hardly any different than L.A. and wondering why everyone had warned me it would be a difficult adjustment. I think it really sunk in when winter rolled around and I realized that socks were a necessity rather than a fashion choice.

Did you find the stereotypes to be true?
Yes, in the best possible ways in the Cotswolds. It's like an architectural version of English central casting, replete with chocolate box cottages and timber-beamed pubs drenched in hanging baskets of flowers. And, yes, it's true: the Brits do like a tipple or three.
What did you find to be untrue?
Well, I still haven't met anyone who talks like Dick Van Dyke in Mary Poppins.
We learn that you continued to celebrate Thanksgiving whilst in the UK, what else helped you to stay connected to your homeland?
Annual visits back home, where we binge consumed at Target and Taco Bell. When in England, I also routinely purchased insanely over-priced Old El Paso Mexican food products from the food hall at Selfridges to try and replicate dinner at Gilbert's, my favorite Mexican restaurant in L.A.

Why did you make the decision to move back to the US?
Work opportunities brought us back to Boston and, now, L.A. We miss England, though, and I'm sure we'll be back.
What advice would you give to other expats wanting to write memoirs or books about their experiences abroad?
Write a blog or keep a journal, anything to help you document your experiences and perceptions when they're fresh. After a while, what first stood out to you as strange or different won't seem that way anymore, and you want to make sure you've captured those quirks when you're still capable of even noticing them.
---
JENNIFER RICHARDSON is the author of Americashire: A Field Guide to a Marriage, the 2013 Indie Reader Discovery Award winner for travel writing. You can find Jennifer online at www.americashire.com.