Launching fresh new blog design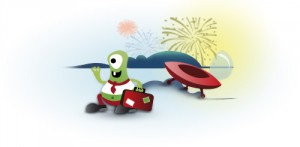 This is the first day out for the new-look Just Landed Blog. We also want to introduce you to Justin, a green alien who is always on the move! Justin knows how it is to feel like an alien, an experience we all share when relocating or visiting a new country. To make your transition easier he will become your personal assistant helping you find accommodation, work and even make new friends!
What we have done to the blog should give you an idea of how Just Landed will look in the near future. We are aiming for a unique, fun and friendly look to enhance your experience on the website.
Last but not least, we also added some new features to our blog, such as posting replies and ratings on comments. We hope that you will enjoy our new theme and look forward to your feedback and comments on our blog posts.