Expat life – As found on the big screen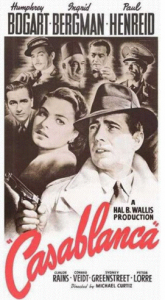 There are a whole host of films featuring the trials and tribulations of expats abroad, all with various tragic, happy, thought-provoking story-lines. Whether you think them realistic or not, read on for a guide to expat life as portrayed on the silver screen.
The classic
The King and I (1956) – The tale of a British governess and her relationship with her employer, the King of Siam. Those expats employed by local royalty, proceed with caution.
Casablanca (1942) – This eternal favourite about an American living in Morocco during WWII has got everything an expat needs, a bar, love, and a teary ending.
The uplifting
Under the Tuscan Sun (2003) – An unlucky-in-love American writer ups sticks and moves to Italy. She buys a villa, renovates it and consequently, her life.
Chocolat (2000) – Not exactly an expat but an 'out-of-towner' opens up a chocolate shop in rural France just before Lent and faces all kinds of opposition from the locals, only to win them over in the end.
The sinister
The Beach
 (2000) – Leonardo DiCaprio stars in this Thailand based epic about the lure of a simple life in paradise, and its darker side.
Dirty Pretty Things
 (2002) – Audrey Tatou's character moved from her home of Turkey to a cleaning job in brooding London. Toying with the shady underworld and organ stealing gangs, we hope you don't encounter this side of expat life.
This is just a small taster of the many films concerned with expat life.  As an expat, let's hope that your experience abroad is filled with adventure, but not the organ-stealing, slavery type. You may encounter unwelcoming locals or a challenging environment, one thing is for sure, you will learn something new.  While your experiences might not read like a film script, try not to end up wanting to quote Leo in The Beach –  'I just feel that everyone tries to do something different, but you always wind up doing the same damn thing.'