Bahrain, Dubai, Oman, and Qatar property guides launched!
We are pleased to announce the launch of our property guides to Bahrain, Dubai, Oman and Qatar!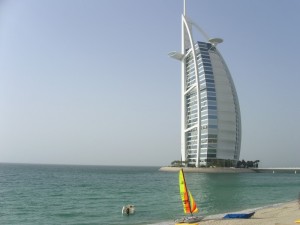 In the mid-2000s, many of the Gulf States officially opened their real estate market to foreign investment, among them Bahrain, Dubai, Oman and Qatar. This produced a boom as foreigners flooded the markets, and developers responded by building ultra-luxury apartments and estates on private islands and peninsulas.
Dubai property developments led the way with world-famous constructions like the Jumeirah Palm and the Burj Khalifa Tower. Property in Qatar does not trail far behind in its innovations, although it is has attracted less popular attention.
All four of these countries have property that rivals those on the Mediterranean coast and matches Las Vegas for luxurious and "imaginative" architecture. With the rush of investors, some properties doubled or tripled their values.
The euphoria didn't last long, however. The economic crunch of 2008 made developments grind to a halt and values fell. This has made prices a little more manageable for expats. There are still some lingering woes in the Middle East property market (for example, be sure that your developer has enough money to finish your apartment if you buy off-plan), but the markets are expected to come back with the national economies. In particular, the values of property in Oman are expected to come back quickly, as Oman had one of the more stable markets.
There are a lot of incentives for foreigners to buy property in the Middle East, the most notable of which are the tax benefits. Buying a property in one of these Gulf States is virtually tax-free (although you should be careful about your property in Bahrain because Islamic inheritance laws may apply to you), and income taxes are minimal to non-existant.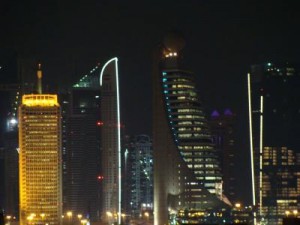 If you're looking to move to or buy a second home in the Middle East, you'll be in good company. Bahrain, Dubai, Oman and Qatar have significant non-national populations, starting with 15% in Oman and soaring to 80% in Dubai. Many of these non-nationals are from other Arab states, the Indian subcontinent, and south-east Asia, though, so you might stand out a little if you're coming from the West. Apart from Arabic, Farsi, Urdu, French and Romanian, you're guaranteed to hear English.
If you have questions about where foreigners can buy property, sales contracts, mortgages or property registration (to name a few of the topics covered), our property guides can help! If you have additional questions or want to know other expat's experiences while buying property on the Arabian Peninsula, ask them in our Bahrain, Dubai, Oman and Qatar forums!