How to see Zurich in a day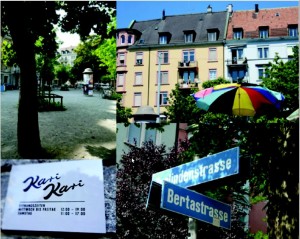 24 hours is just the right amount of time to get a good first impression of Zurich. Follow myfriendfromzurich's tips, and you'll know where to go and what to do away from the tourist crowds.
9:00 AM, Zurich
It's 9 o'clock in the morning. You just woke up in one of the nice rooms at the guesthouse Zum Guten Glück. Get up! Twenty-four hours of Zurich are waiting for you.
Start with a morning coffee or brunch at one of the nearby coffee shops – Dihei, Z am Park or Piazza. All are located on or close to Idaplatz, one of Zurich's most beautiful squares. This is where everybody meets on a sunny day to relax and people watch.
Once you've eaten, take a stroll through Kreis 3. Do a little shopping at Bits and Bobs or Kari Kari and enjoy the great vibes of the neighborhood.
1:00 PM
Follow Zweierstrasse Street until you get to Freyastrasse.
In the small side streets, you'll find great shops such as Individuum, Ikou Tschüss, Making Things, Freitag Reference Store, Lux Plus, Erbudak or Urban Bliss.
Note: You are now in Kreis 4. This is the red-light district of Zurich or as we call it 'Chreis Cheib.' This area has a reputation as being more dangerous than other areas, but it's also a very hip neighborhood where you can peruse quirky boutique shops and bars.
3:00 PM
It's time to rest your legs. Head to Bäckeranlage, a lovely park where you can find something to eat and drink, lie on the grass and relax after shopping.
When you feel like leaving the relaxing green park, walk back to Langstrasse and follow it down toward Kreis 5. As soon as you walk through the tunnel under the railway line, you have arrived.
Buy yourself some Italian sweets at Caredda. Paolo Caredda, a confectioner from Ischia, is known internationally for his Sfogliatelle, Amaretti and Gelati. The best thing about Caredda is that you can enjoy it all in a cozy, traditional Italian atmosphere.
6:00 PM
Walk over the Kornhausbrücke bridge,  over the Limmat River, and up to Kreis 6. Here you can enjoy one of our favorite drinks, a Hugo, or an Aperol Spritz at Café des Amis. This is the perfect place to start a Zurich night out.
For dinner, we recommend Maison Blunt, which serves excellent Moroccan food.
10:00 PM
Stroll to Dante, a very trendy bar on the corner of Zwinglistrasse and Tellstrasse. They offer great drinks mixed by friendly, passionate bartenders.
Time to relax and enjoy your drink amongst some of Zurich's hipsters.
12:00 AM
Just a stone's throw away from Dante is Zukunft, which literally means "the future." Zukunft is one of Zurich's most popular night clubs, and you can easily spend hours watching the in-crowd, dancing to hot club music and meeting new people.
4:00 AM
Before heading home, cross the street to get a mouth-watering 'Scharfe Weggen' at Happy Beck. This is a salty pastry, filled with mozzarella cheese and tomatoes. It's a specialty of the takeaway bakery, but be warned. It is quite 'scharf', or spicy.
---
This blog post was submitted by myfriendfromzurich – An independent travel blog about culture, leisure, shopping and going out in Zurich.