Changing the world one run at a time
Month of April saw people running marathons and 10km runs for charity in many cities around Spain. Many people who run say it is a life-changing experience with many benefits like visible health improvement, but also a sense of achievement and a possibility to meet new friends.
Becoming an expatriate is an amazing opportunity to change your life inside out. Sometimes, this is not always for the better. Many people going abroad find they put on weight, as they lose exercise routines habits because of the change of environment, the stress of moving, lack of time or motivation to exercise at the gym. Sadly, our body makes no exceptions, the moment we stop looking after it, it gets out of shape. However, even the busiest expat can be a fit person.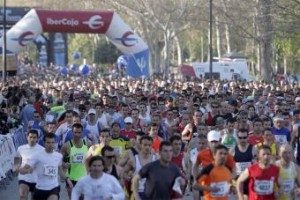 If you don't have time or money to go to a gym, running is a sport for you. All you need is a bit of discipline and some running shoes. Running is a great sport because you can do it anywhere and it can be made to fit in the most hectic schedules – with the right motivation. Find yourself a partner if you can as this is a big help. A partner will help give the extra push not to make excuses on the days you don't feel like running. The second thing you need is the goal. Dream big, reach for the stars they say, so let your goal be THE marathon. Do you think it is impossible? Well, you are wrong. You won't be able to realize it right away, but after the year or two of constant practice you'll be able to achieve it. Have a look at Towe-Anders, a blog from the expat living in Switzerland, where she documented her close ones participating in Lucerne's marathon. As you can see, the marathons are completed by the typical, normal people. Remember, getting ready for marathon is also a great way to lose that extra 'expat' weight. However, good eating habits are just as important as regular exercises. Follow 5 simple eating tips for runners to achieve better results and quickly lose unnecessary pounds.
This sport will not only make you feel healthier and slimmer but it can also be used to try to solve some of the modern world´s problems. I highly recommend reading the inspiring blog of Rugby Mad, a South African living in Dubai. He is willing to participate in exhausting Comrades Marathon in South Africa on 29th of May to raise awareness about the autism. He also wants to obtain some funds for the Autism Foundation. It is definitely a big challenge. The distance is 89km, around 47km more than the regular marathon.
There are a lot of races organized for charity. Try looking them up. The knowledge of helping the others may be the best motivation to practice regularly. If the whole marathon is still too much for you, opt for the shorter versions of the famous race that are in all bigger cities around the world.